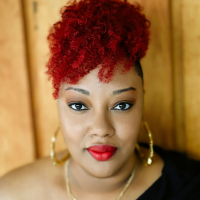 Aja
Contemporary Romance, Romance, Erotic Romance, Women's Fiction, African American Interest
Aja is an Award-Winning National Best-Selling author of passionate women's fiction & romance. Readers experience realistic, passionate, and soulful interactions with her work. She is inspired by soulful music and sensual art and uses them to help craft her stories.

Aja is the recipient of multiple awards including BRAB's Beverly Jenkins Author of The Year Award for 2020. When she's not being a wife and mother, you can find her looking for a spot on the beach to watch the sunrise over the remarkable waves.
How wrong is it for a woman to expect the man to build the world she wants, rather than to create it herself?
Anais Nin
My ideas usually come not at my desk writing but in the midst of living.
Anais Nin
If you do not breathe through writing, if you do not cry out in writing, or sing in writing, then don't write, because our culture has no use for it.
Anais Nin
I, with a deeper instinct, choose a man who compels my strength, who makes enormous demands on me, who does not doubt my courage or my toughness, who does not believe me naive or innocent, who has the courage to treat me like a woman.
Anais Nin